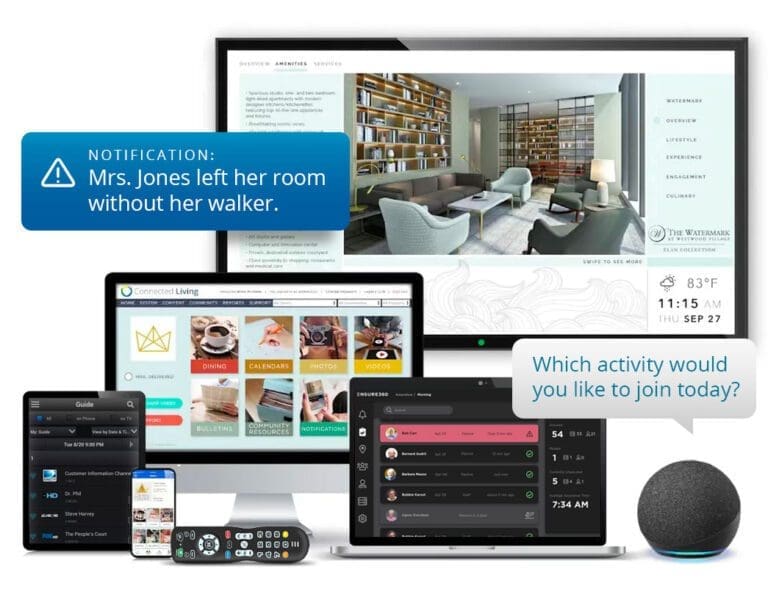 AN INTEGRATED SUITE DESIGNED FOR THE SENIOR LIVING INDUSTRY
Sentrics360SM suite empowers operators to enhance resident engagement, TV/phone/internet, and life safety all through a single data-driven platform.
Prioritize Safety: State-of-the-art RTLS eCall and nurse call systems to safeguard your residents, emphasizing their security and wellness.
Enhance Engagement: Our range of television services, from traditional senior resident TV to contemporary digital signage, ensures that seniors stay informed, entertained, and valued.
Economize with Value: Simplified internet bundles, packages for TV, and voice make sure seniors receive premium services without the premium price.
Optimize Staffing: Navigate staffing challenges using enhanced clinical workflows to meet resident needs efficiently.
BOOST RESIDENT SAFETY WITH ADVANCED RTLS eCALL SOLUTIONS
Merge sensors, emergency equipment, and real-time location services, emphasizing resident safety.
Our systems anticipate and meet resident needs, shifting caregivers from a reactive stance to proactive care, all while bolstering community trust.
Anticipate Needs: With remote monitoring for seniors, caregivers can transition from being reactive to proactive.
Elevate Efficiency: Face staffing pressures head-on with streamlined operations.
Assure Families: Offer clear insights into the health and wellbeing of their loved ones, establishing trust and transparency.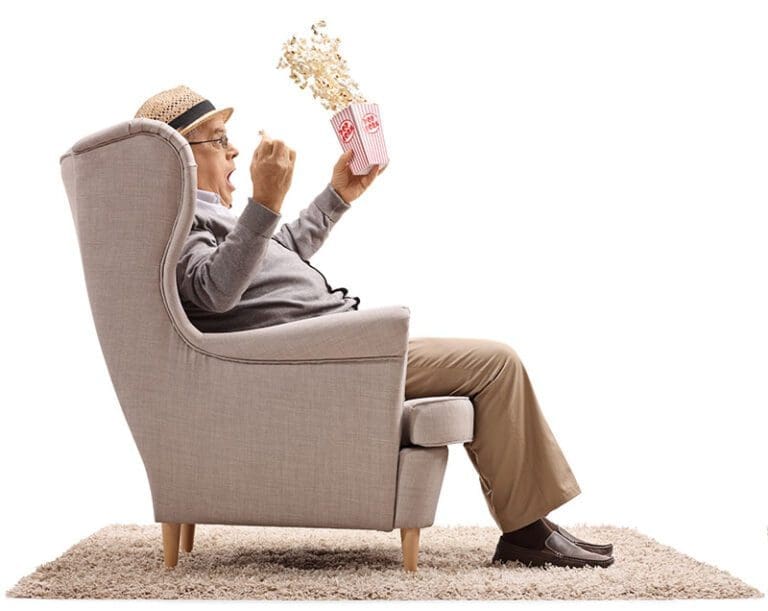 CUT COSTS AND BOOST RESIDENT ENGAGEMENT
Our streamlined TV, voice, and internet bundles prioritize both resident engagement and affordability.
With user-friendly software, seniors can easily connect, communicate, and enjoy their favorite shows, ensuring they remain engaged and satisfied.
Hassle-Free Setup: Sentrics ensures easy tech adoption with thorough training for residents and staff.
Community Channels: Spotlight community events and activities, enhancing engagement at all levels.
Eco-Friendly Signage: Our digital displays save you money and are environmentally considerate.
Tailor to Your Needs: Choose channels that resonate with your residents the most.
Top-Notch Support: Experience unmatched technical assistance, with a rating of 9.9/10.
TACKLE STAFFING CHALLENGES THROUGH ENHANCED CLINICAL EFFICIENCY
Empower your team to prioritize and enhance safety.
With our tools, they can be more proactive, focusing on resident needs and achieving higher care standards, maximizing their time in the process.
Minimize Paperwork: Dedicate more time to direct care and less to paperwork.
Streamline Operations: Automate routine tasks to ensure efficiency.
Enhance Safety: Significantly reduce accident risks, safeguarding against potential hospitalizations.
Popular bundles
TV + Phone + Internet
An average of one resident per day request help with their TV adding 20 min of staff time daily.
Fully managed in-room services combine TV programming, secure internet, IT and voice with 24/7/365 live-phone support to manage every aspect of your communications needs at a fraction of the cost.
TV + Resident Engagement
Increase occupancy by offering unsurpassed in-room entertainment and engagement.
TV lineup with insertion channels, interactive guide and engagement tools all from one device – activity and dining schedules, music therapy, religious activities, & photo sharing all from the comfort of resident rooms.
Digital Signage + Resident Engagement + Mobile App
Based on a 40 hour work week, our solution increases staff productivity by 30%.
Communicate with ease to residents, staff and family via digital signs throughout the community or mobile app. Bulk uploads and sophisticated CMS improve staff efficiency.
TV + Digital Signage + Channel Insertion + Engagement + Mobile App
Saves approximately $300/month on printing costs.
Become paperless in your community and save time and money. Additionally, it provides residents with needed information and engagement regardless of their technical skill on devices familiar to them.